Setting up a new computer with Ubuntu to run open source software for research and Geocomputation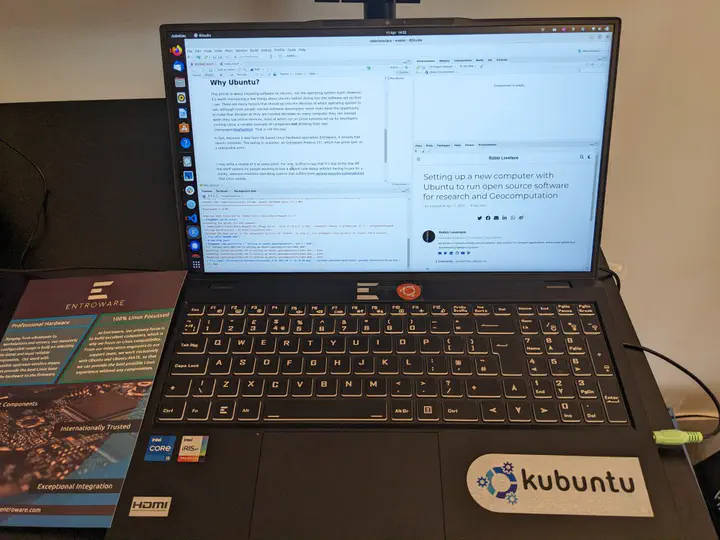 I recently got a new laptop. Being a long time Ubuntu user and fan, decided to get set-up with the user-friendly and long-established Ubuntu. This post is about how to get set-up with new software on Ubuntu. The main message: installing and setting-up software from the command line can save time and save your future self hours the next time you get a new computer. It is rather niche with a very specific target audience: people who have recently installed Ubuntu on their computer, who are looking to get a new computer and wondering what options are out there, and people who already have Ubuntu and want to get more software installed. After you have finished your set-up may look a bit like this.
If you want to jump to the code without reading my ramblings on open source software, and if you approve of Linus Torvald's quip "talk is cheap, show me the code", then feel free to skip to to the code and ignore my ramblings here ; ) https://github.com/Robinlovelace/install-geocomp-ubuntu
That repo was set-up around 7 years ago, inspired by a post on installing commonly needed GIS software on Ubuntu (see the first commit here). I decided to use my new laptop setup needs as an excuse to update the repo for using Ubuntu for research in the 2020s.
Why Ubuntu?
This article is about installing software on Ubuntu, not the operating system itself. However, it's worth mentioning a few things about Ubuntu before diving into the software set-up that I use. There are many factors that should go into the decision of which operating system to use, although most people (except software developers) never even have the opportunity to make that decision as they are handed Windows on every computer they use (except when they use online services, most of which run on Linux systems set-up by developers running Linux, a notable example of companies not drinking their own champagne/dogfooding). That is not the topic of this blog post but worth stating the reasoning behind using Linux: from economic, educational, security and good vibes perspectives it's a win, win, win, win. Include the user-friendliness and stability of Ubuntu and it's a win x 5 situation!
If you don't already use Linux and are curious about Ubuntu, I recommend checking out one of the great blogs on 'dual booting' linux on computers that currently have Windows
In fact, because it was from UK based Linux hardware specialists Entroware, it already had Ubuntu installed. The laptop in question: an Entroware Proteus 15", which has great spec at a reasonable price. It's also a looker as shown in the photo.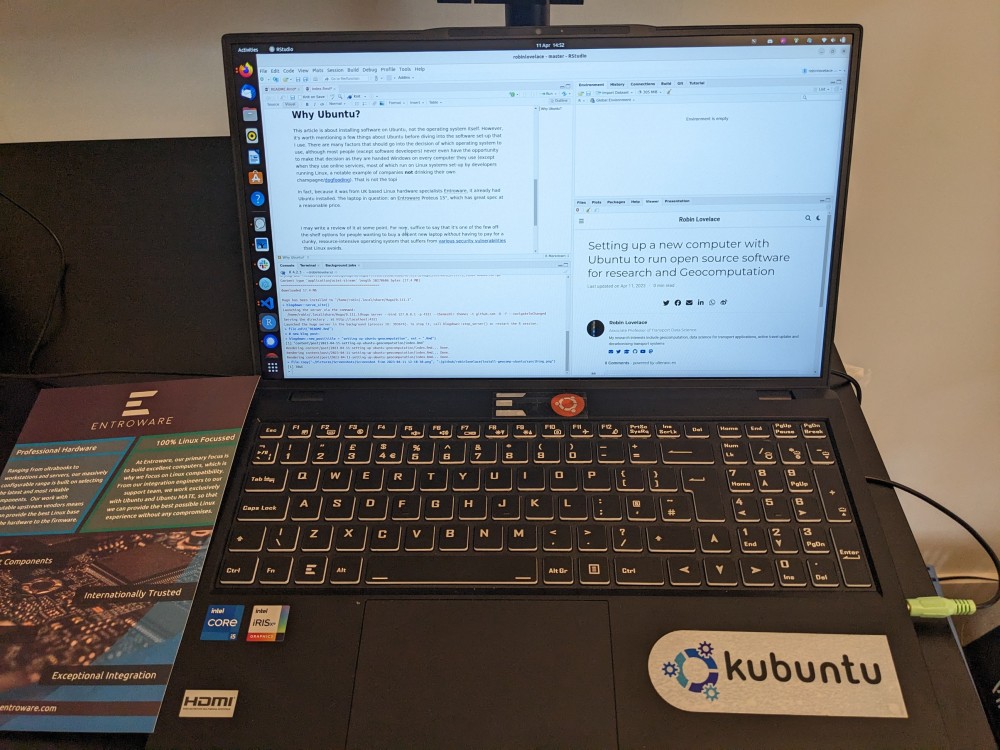 I may write a review of the Entroware Proteus at some point. For now, suffice to say that it's one of the few off-the-shelf options for people wanting to buy a decent new laptop without having to pay for a clunky, resource-intensive operating system that suffers from various security vulnerabilities that Linux avoids.
Install key packages
After you have installed Ubuntu or bought a laptop that has it preinstalled, it's time to get things set-up! The packages that are 'key' will vary from person to person. I'm confident that the list I have below will be useful to many people. If you like making maps, reproducible research, and using future-proof tools for data science, programming and geocomputation, I'm confident many will be useful. The guide below covers the following:
GitHub's CLI tool for command-line collaboration and code sharing
R with access to pre-compiled packages, a powerhouse for statistical computing
R packages for working with spatial data
RStudio, a space-aged editor for R
VS Code with extensions for R, Python, C/C++, Rust, Docker, and more
Docker, which gives ultimate power and flexibility to install and run software
I've also created content for adding more amazing software, find those on the GitHub repo I set up to encourage contributions and to make the content more future proof:
So let's dive in!
Fire up a terminal, e.g. with Ctl-Alt-T after booting Ubuntu, then enter the following.
Summary
This blog post outlined my experiences getting set-up with a new Ubuntu installation and provided reproducible instructions for people who want to follow some of my steps. An important feature of open source software is choice.# There isn't just one way to do things. That can be frustrating and daunting: so many decisions to make!
However, the act of making decisions is important. Choosing the set-up that works for you, rather than just following others, is highly recommended. So I encourage you to NOT follow all these instructions verbatim. Do your own research. Try things out, uninstalling things that don't work for you, and keeping things that do. I outline some of the thinking around software choice here and plan to update that after the dust has settled around my updated set-up documented in this blog post and associated repo.
Ultimately, technology is about increasing what you can do. So the key thing is what you do with the technology. A decent computer with some of the open source tools outlined above is a powerful technology indeed. There are many other tools to install now and many other tools will be developed in the future. Chances are high that at least some of these tools, not covered here, will be of use to you.
Another thing about open source communities is their emphasis on sharing and learning, which is what inspired me to document the steps I took and share them with the world. Feel free fork my repo, tell me about issues and suggest changes via Pull Requests or in the comments below.
One thing that I'm not sure of: how best to get a good Python environment up-and-running? For the Geocomputation with Python book project I have found that micromamba works great, but that's in Docker and I'm not sure of the best way to set-up my default Python instance on Ubuntu. Any suggestions welcome.
Thanks to everyone for building the amazing software installed in the course of this blog post and to everyone who has helped me with instructions, blog posts, answers on Q&A sites and more. To see a slightly more complete list, see the source code underlying this block post here: https://github.com/Robinlovelace/install-geocomp-ubuntu